3 - 5 minute read
Bitcoin's recent journey has been filled with highs and lows, but a notable crypto strategist claims that the digital currency is currently in the early stages of a significant bull run. Credible, a well-known pseudonymous analyst, has pointed out that Bitcoin's consolidation between June and December 2022 is the longest in four years, indicating that a new growth cycle is beginning.
Credible has employed Elliott Wave theory, a technical analysis approach that aims to predict future price movements, to assert that Bitcoin's bottoming out process has completed and the fifth wave surge is already underway. According to this theory, an asset in a bullish market goes through a five-wave uptrend, with the first, third, and fifth waves seeing a rise in prices.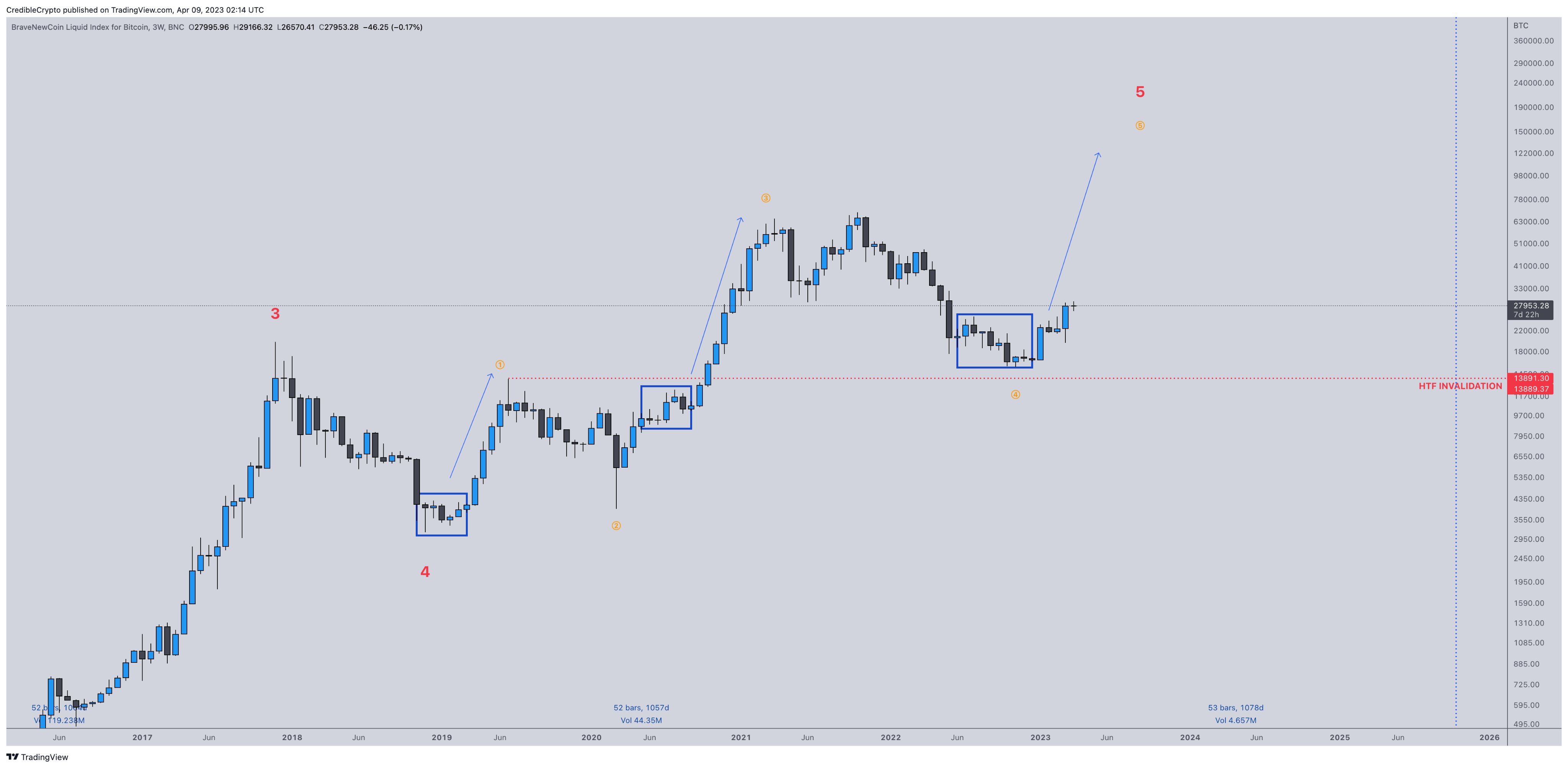 Credible believes that Bitcoin is currently in its fifth wave, with the price surging towards $130,000 before the year ends. After updating his chart with the completed timeframe for the fourth wave, he notes that the invalidation level of $14,000 was not reached, leading him to anticipate a stronger fifth rally. Credible has amassed a following of over 300,000 on Twitter and has earned recognition for his market predictions, making him a valuable resource for industry insiders.
Boring Is Good
Credible has also emphasized the importance of a low-volatility consolidation period to establish a strong foundation for the subsequent Bitcoin rally. The more uneventful this period is, the better it is for the upcoming expansion.
Expansion has begun. This time following a consolidation period that was ~30% longer than our last major rallies in 2019 and 2020. If you thought those rallies were strong wait till you see this next one… $BTC pic.twitter.com/MHP2jSbrXl

— CrediBULL Crypto (@CredibleCrypto) April 9, 2023
Predicting the future of any asset, including Bitcoin, is challenging, and several factors can influence cryptocurrency prices, such as crypto regulations, environmental concerns, government policies, and market demand. Hence, investors should conduct thorough research before making high-risk investments in Bitcoin and other digital assets.
Conclusion
Bitcoin appears to be poised for a substantial rally this year, with positive sentiment prevailing in the crypto community. Credible's optimistic projection of Bitcoin reaching $130,000 before the year ends provides an upbeat outlook for traders looking to buy assets at a lower price. However, investors should remain cautious and invest only what they can afford to lose, despite this bullish sentiment.